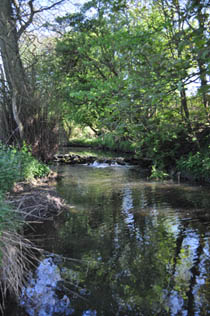 Ashbourne Fly Fishing Club was formed in the 1920s by a group of sporting gentlemen to enjoy wild trout fishing on some beautiful waters in one of the most picturesque parts of England, Derbyshire's Peak District.
One of the founder members was W. Foster, the owner of Foster Bros (world famous fishing tackle shop of Ashbourne renowned for their much sought after cxane rods). The club progressed over time and we purchased the rights to a number of different waters including the River Henmore, the Bentley Brook ( fished and mentioned by Charles Cotton.) as well as access to three local lakes.
Our rivers are well-cared for with regular work parties to ensure access to them is first-class, all of our rivers have a good mayfly hatch. We have the benefit of a first-class water-baliff to ensure that a wary eye is kept on them. A good deal of the work done helps maintain the natural habitat of a multitude of wildlife and you will expect to see all manner of waterfowl, swans and water voles in a day spent fishing here.
The club consists of a group of approximately forty members who typically are a friendly bunch willing to give a warm welcome and guidance to newcomers and established anglers alike. All members receive guest tickets but be aware there are no day tickets on any of our waters.
A limited number of places are available for membership. If interested please contact Jerry Haynes
jerry.s.haynes@gmail.com